Aveda Men Pure-Formance Grooming Clay
Aveda's Grooming clay… a premium Brand… But is it a premium product?
Hi guys, how are you? I'm Robin. Now, This one is all about Aveda's Grooming Clay. Actually, a product that… I mean I've got a full list of products I'm trying to work my way through, but this one kept on coming up.
Aveda Men Grooming Clay | Honest Review
Now, Aveda is a brand that I've spoken about quite a lot actually. Aveda thickening tonic, it's always in my top 5 of the year, a product that I absolutely love and that I use a lot. So was interested to get into this one.
You know, Aveda is a premium brand. Is it a premium product?
Now, this is their Aveda Men Grooming Clay. It says on the box, here you go, texture and strong pliable control. They say that they want to give you this great hold, but without adding shine to the hair. It says our pure-performance grooming clay adds strong hold without adding shine. Its lightweight microfibers provide the control you need to create any style with a comb or your fingers; perfect for adding thickness to hair.
Now taking a look at the packaging, it comes in this box – 90% of which is from recycled materials and then into their brown jar, again from recycled materials. Not hugely impressive in the way it looks, but I'm very much keen to hear about brands that are using sustainable materials in their packaging. So, for me, that very much overtakes the aesthetics.
That said, the smell is another aesthetic. I do like to sort of get my nose in too. This smells amazing. Aveda's products always smell so good. They smell clean. They smell… I say clean in that they're not packed full of chemicals. They always smell like herby, very organic, stuff that you kinda wanna slather your face in. So, for me, this is the signature Aveda scent that I absolutely love.
Now, talking clean and organic, looking into the ingredients, we've got water at the top, canola oil, hydrogenated castor oil, blah, blah, blah, lots of various other things and we're right down to basically the bottom of the list is where we get kaolin. Now kaolin is one, I mean you know kaolin is one of the clays that often pop up in a clay product. So for that to be so low down, really short of makes me think, can this really call itself a clay. And I think when you look into the consistency of this product, I'm not too sure.
You know this product looks like a cream. It's slightly waxy to the touch. It does scoop out very, very easily. It's smooth. It gets into the hand it can be emulsified so easily. You don't have that usual… slight grittiness to it. You don't have that heaviness of clay. So that kind of like…to be honest, that kind of annoys me because, in terms of the marketing of a product, it then overtakes in the performance of a product.
Now, into the application, because it is so creamy because it is so smooth, it gets in so easily, applied from the back into the front. The styling is really very easy and I find that you know, each time I use it, it feels like it picks the hair up from root to tip. It really coats it and it allows you to really do what you want. You don't have that…again, with it not being like clay you don't have that same heaviness and the same density that you have with clay, which actually, really like because it helps with my sort of fine hair.
But you are able to direct it and you do feel like it is giving this sort of almost like thickening quality so I enjoy styling with this. And actually into the finish, and it's actually the product I've got in my hair right now, it does look matter. It's got a slight sort of natural gloss to it which I like. I don't really like a product that sort of takes out that natural shine, but it does retain it and you can see that actually, it's got this very natural sort of look to it, and you'll see that into the hold.
Looking good, dropped ever so slightly; I've just been playing with it. What I like about this is that it's retained its sort of matte finish. It doesn't look greasy. It doesn't look shiny and actually, the hold is pretty good for it, actually. You know, even for me having very fine hair. It has stayed and allowed me to play with it all day.
So really, although the product looks like a cream, it is holding and it's holding well. What I sort of particularly noticed in this from the finish into that hold is that the hair looks healthy. Aveda is one of those brands that they've been around for years and they're not new to this. They're not new to the good ingredients; they're not new to sustainability, and the whole ethical creation of products. They're very much grounded there and in the foundations of that, and that's what I really trust in with Aveda. I always know that they're gonna deliver and I always know that the ingredients in those are gonna be good, and you can see that.
Now into washability, it's great. It washes out, no bother. No need for shampoo, but obviously for peace of mind you can shampoo it out. But the hair feels clean, it feels healthy and it feels soft.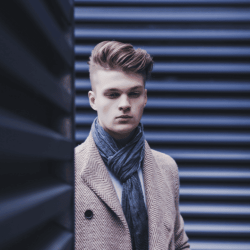 Men's trending fashion and how to look attractive. Here teaching fashion, so make sure to check it out.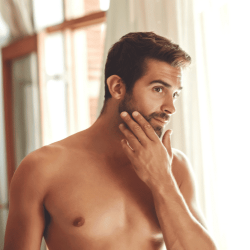 It cannot be denied that men have finally come to their senses when it comes to good grooming and fashion statement.