Hey, trendsetters! Welcome back to Men's Dream Lifestyle! As the festival of lights is just around the corner, it's time to illuminate not just with lamps but also with style! In today's content, we're diving into the heart of Diwali fashion and outfit ideas, specifically tailored for all you stylish men out there.
From traditional elegance to modern twists, we've got an array of dapper outfit inspirations that'll make you stand out and shine this festive season. So, let's ignite the sartorial fireworks and get you prepped with stunning Diwali outfit ideas that will have heads turning!
1: Classic Kurta Pyjama with a Twist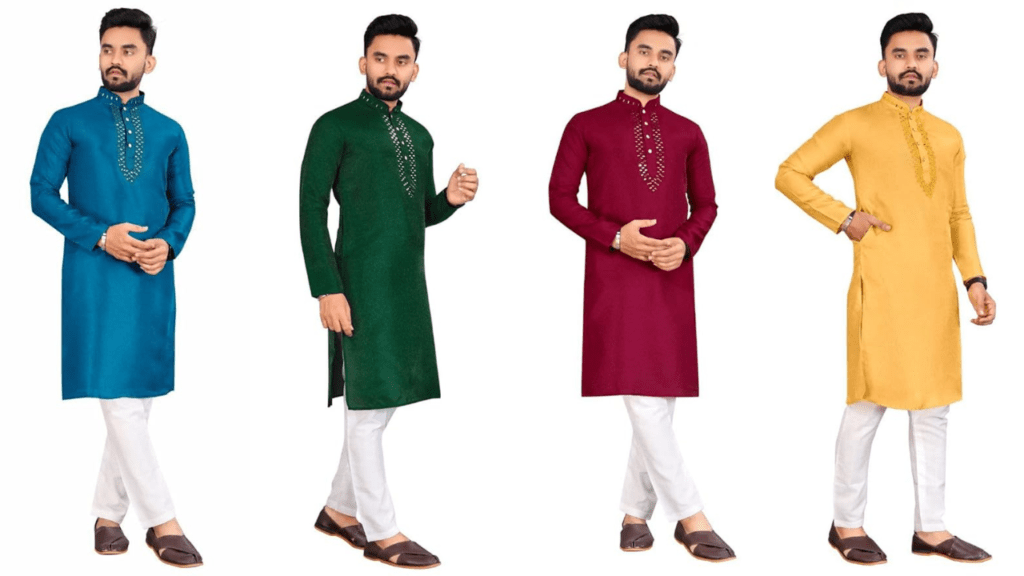 Picture this: an evergreen classic that never goes out of style, the Kurta Pyjama. But wait, let's amp it up a notch! Opt for a tailored kurta in rich jewel tones like royal blue, emerald green, or deep maroon. Pair it with sleek churidar bottoms or even well-fitted trousers for a contemporary spin.
The Bandhgala – the regal charm you need this Diwali. This Indo-Western style is a total winner. Choose a Bandhgala in opulent fabrics like silk or brocade, embroidered with intricate patterns or subtle details. Add your personal touch by pairing it with jodhpuri pants or even classic trousers.
3: Vibrant Nehru Jacket Extravaganza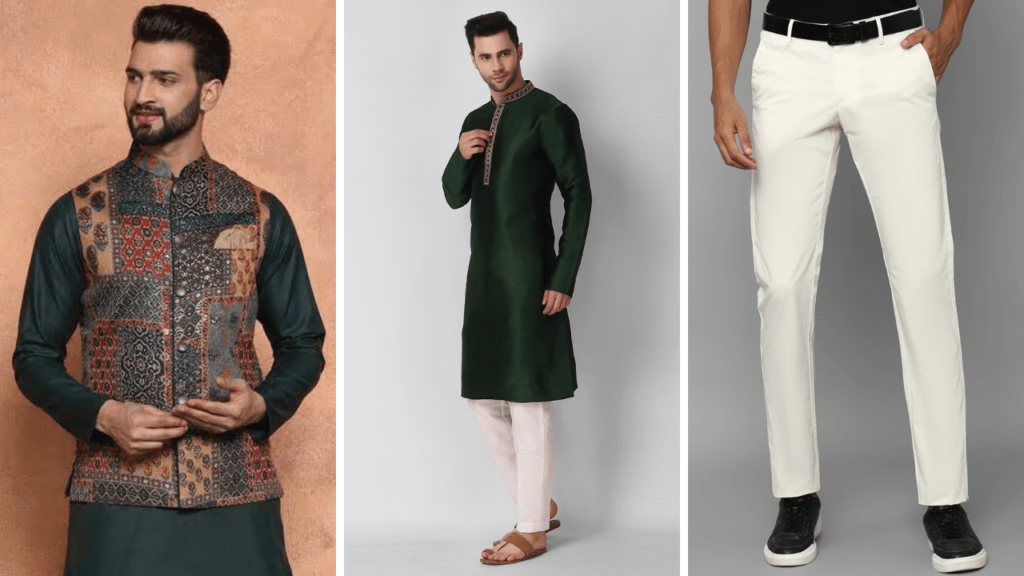 For a trendy and versatile look, let's talk about Nehru jackets. Opt for a bold Nehru jacket in vibrant shades that pop against darker tones. Mix and match with contrasting kurtas and chinos for an effortlessly stylish ensemble.
4: Contemporary Twist with Asymmetrical Hemlines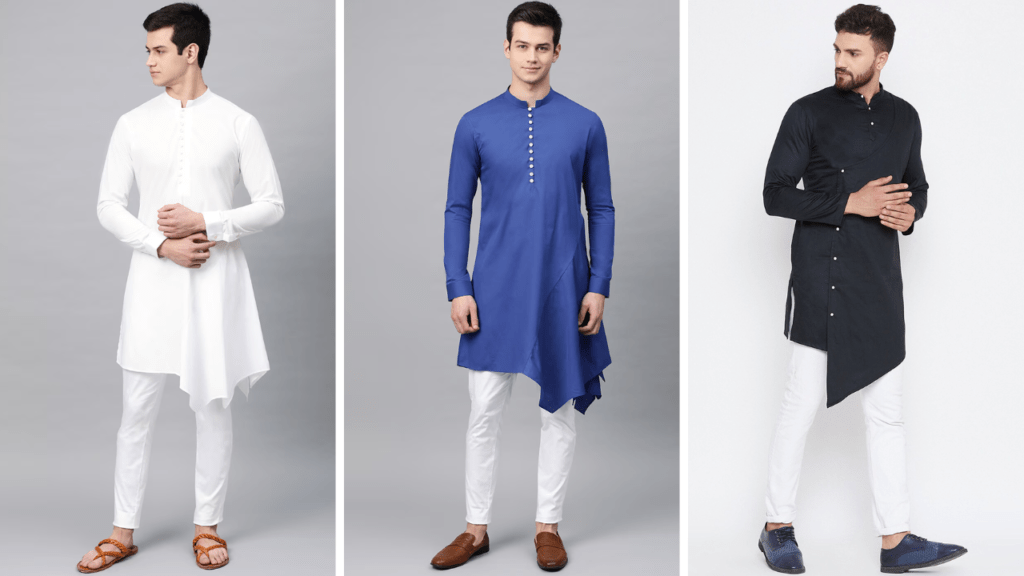 Innovate your traditional look by choosing kurtas with asymmetrical hemlines. These unconventional cuts add a modern edge to your outfit. Experiment with asymmetrical hemlines in combination with fitted trousers or jeans for a sleek and contemporary Diwali appearance.
5: Dapper Indo-Western Fusion
This Diwali, blend the best of both worlds with Indo-Western fusion. Think kurta-shirts or embroidered jackets paired with denim or smart trousers. It's all about the fusion, mixing ethnic elements with modern silhouettes.
6: Elegant Suits with Ethnic Accents
For the men who prefer a more western look, how about incorporating ethnic elements into a classic suit? A well-fitted suit in a dark shade with an embroidered waistcoat or a pocket square inspired by traditional patterns can add that festive touch while keeping it sharp and suave.
7: Playful Prints and Patterns
Dare to stand out? Embrace playful prints and patterns! Experiment with bold prints on kurtas or even jackets. From florals to geometric shapes, there's a whole world of prints waiting for you to explore this Diwali.
8: Statement Accessories for the Win
Accessories can make or break an outfit. Elevate your Diwali look with statement pieces like pocket squares, vibrant stoles, or even elegant brooches. These accents add finesse and a personal touch to your ensemble.
9: Embellished Footwear & Headwear
It's all about the details, fellas! Don't overlook your footwear and headwear. Opt for embellished mojaris, embroidered shoes, or even ethnic headgear like turbans or embroidered caps to complement your outfit.
10: Confidence and Attitude - Your Ultimate Style Statement
Above all, remember, it's not just about the clothes you wear but how you carry them. Confidence and attitude are your ultimate style statements. Rock your chosen outfit with self-assurance, and you'll radiate the true essence of Diwali fashion!
And that's a wrap, folks! Diwali is all about spreading joy, light, and looking your absolute best while doing it. Whether you opt for the traditional elegance or experiment with contemporary styles, it's all about expressing yourself with flair and confidence.
I hope these 10 stunning Diwali outfit ideas for stylish men have ignited your fashion creativity and given you the inspiration you need to shine this festive season. Don't forget to hit that like button, subscribe on our YouTube channel for more fashion content, and share this content with your friends. Until next time, stay stylish, stay fabulous, and have a luminous Diwali!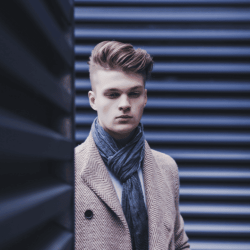 Men's trending fashion and how to look attractive. Here teaching fashion, so make sure to check it out.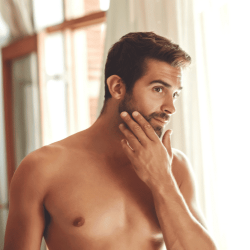 It cannot be denied that men have finally come to their senses when it comes to good grooming and fashion statement.